Black Friday offer
Get your property ready to market before Christmas and save hundreds (and even thousands) of pounds on your sale with our exclusive offer!
If you have a property to sell but are thinking it's best to wait until the festive season has passed before getting it ready to list in the New Year, you could be missing out on a valuable opportunity!

A recent article by leading online property portal Rightmove has highlighted that more people are getting a head-start on 2022 by preparing to sell now. What's more, Boxing Day marks the start of the 2022 home-buying season and every year Rightmove see a significant increase in people browsing properties on their website after Christmas Day, with 51 million visits to their site reported between Boxing Day 2020 and the first working day of this year.

Getting your home prepared to sell before Christmas therefore presents a fantastic opportunity to give your property exposure to a larger than normal number of potential buyers. When you sell your property at auction with us, you'll benefit from extensive pre-auction marketing which includes your property being listed on all major UK property portals such as Rightmove, as well as on our website and across our social media channels. We also promote our listings to our large email database of buyers and investors.

With our exclusive Black Friday offer, you not only can benefit from this valuable time to sell but have the chance to save hundreds (and even thousands) of pounds on your sale!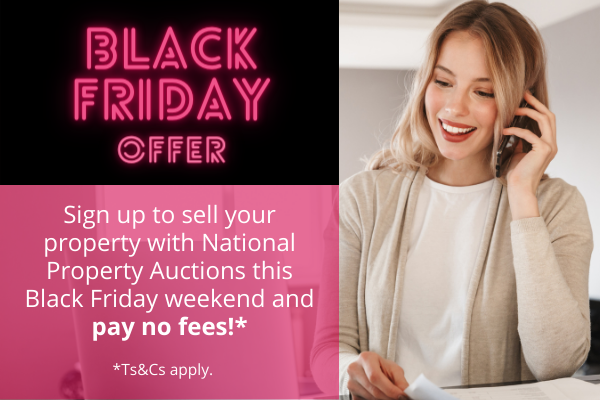 The offer
If you sign up to sell your property with us under auction terms over this Black Friday weekend – from Friday 26th through to Monday 29th November – you'll not pay a penny to sell with us.*

To take advantage of this limited-time offer, simply call us on 0330 0940 100 or email us and say you'd like a 'Black Friday Valuation' to get the ball rolling. As long as we have your details registered between 26th and 29th November 2021, and you instruct us to market your property within 6 weeks of doing so, you will receive our fee free offer.
What's more, we are still currently offering a free home report to anyone who signs up to sell their property with us before 30th November 2021*, so you could save even more money on your property sale! View full details of this offer here.


* Terms and Conditions
In order to redeem this offer, you must:
• Qualify as the property owner.
• Register for a valuation of your property with National Property Auctions through a phone call or email.

The offer will only be available for a 6-week period after we have carried out your valuation / or – after we have received your registration for a valuation.
The request for a valuation must be made between 12am on Friday 26th November 2021 and 12pm on Monday 29th November 2021.
National Property Auctions Ltd reserves the right to refuse redemption or withdraw the offer at any time.